Regular price
Sale price
$30.00 USD
Unit price
per
Sale
Sold out
The ultimate bromance will blossom when you stick on a Male Multivitamin Friendly Patch. Packed with all the essential vitamins for heart health,  health, muscle, and immune function, you can rest easy knowing your daily dose of vitamins is taken care of in this male energy patch, specifically for active men.
Each package contains a 28-day supply of Patches.
Key Ingredients for Men Vitamin Patch

Ingredients

B1 Thiamine (.60mg)

Vitamin B2 (Riboflavin) (.65mg)

Vitamin B3 (Niacin) (8mg)

B5 Vitamin (D-Calcium Pantothenate) (2.5mg)

B6 Vitamin (Pyridoxine HCl) (.75mg)

Vitamin B7 (Biotin) (.02mg)

B9 Vitamin (Folic Acid) (.20mg)

Vitamin B-12 (.02mg)

Vitamin A Palmitate (Retinol Palmitate) (.90mg)

Vitamin D3 (.02mg)

Vitamin E Acetate (3.75mg)

Vitamin K1 1% (.06mg)

Vitamin K2 MK7 (.06mg)

Iron Sulphate (2mg)

Zinc Picolinate (2.75mg) to help fight off bacteria and viruses

Manganese Gluconate (.58mg)

Chromium (III) Sulfate Trihydrate (.04mg)

Copper (II) Gluconate (.80mg)

Molybdenum Glycinate (.05mg)

Potassium Iodide (.15mg)

Magnesium Beta Hydroxybutyrate (.42mg)

Potassium Dihydrogen Phosphate (.70mg)

CALCIUM Beta Hydroxybutyrate (1mg)

Potassium Citrate (1.70mg)
Benefits of Men Vitamin Patch

Benefits of Men Vitamin Patch 

Here are some of the comprehensive research-based benefits of using a Men Vitamin Patch:

Support Health

The Men Vitamin Patch contains essential vitamins like B1, B2, B6, B9, and B12, which are known to support healthy function. Energy vitamins for men like Vitamin B6 help to lower homocysteine levels, which can help overall health. Vitamin B12 and folic acid may improve health.

Enhanced Brain Function

B vitamins like B1, B2, B3, B6, B9, and B12 are essential for maintaining healthy function. These vitamin patches for men can help memory and enhance mood

Boosted Immune System

Vitamins A, C, and E are essential for a healthy system. These vitamins can help to strengthen the health system.

Allow Healthy Muscle Functioning

Magnesium is an essential mineral for healthy muscle function. It contains magnesium beta-hydroxybutyrate, which can help to reduce muscle fatigue and improve muscle recovery.

Energy Levels

Vitamin B plays a vital role in the production of energy in the body, which is why the Men Vitamin Patch contains it. These vitamins can help to reduce fatigue and increase energy levels throughout the day.

Improved Nutrient Absorption

With the convenience of a men's vitamins with B12. you can easily absorb the necessary nutrients without needing pills or injections. This delivery method may be especially beneficial for people who have trouble absorbing nutrients due to digestive issues. 

Convenient and Easy to Use

With the Men Vitamin Patch, you'll get all the essential vitamins and minerals you need to stay healthy. It's a simple solution for busy people who don't have the time to take multiple pills or make complex dietary changes.

Where to Buy Men Vitamin Patch?

The Men's Vitamin Patch provides essential vitamins and minerals that can help support overall health and well-being. This vitamin B12 patch delivers nutrients directly through the skin, bypassing the digestive system, which can improve nutrient absorption. Whether you're looking to support your immune system, boost energy levels, or improve your overall health, The Friendly Patch has a men's vitamin patch that can help. Visit their website today to get the Men's Vitamin Patch and start feeling your best. 
View full details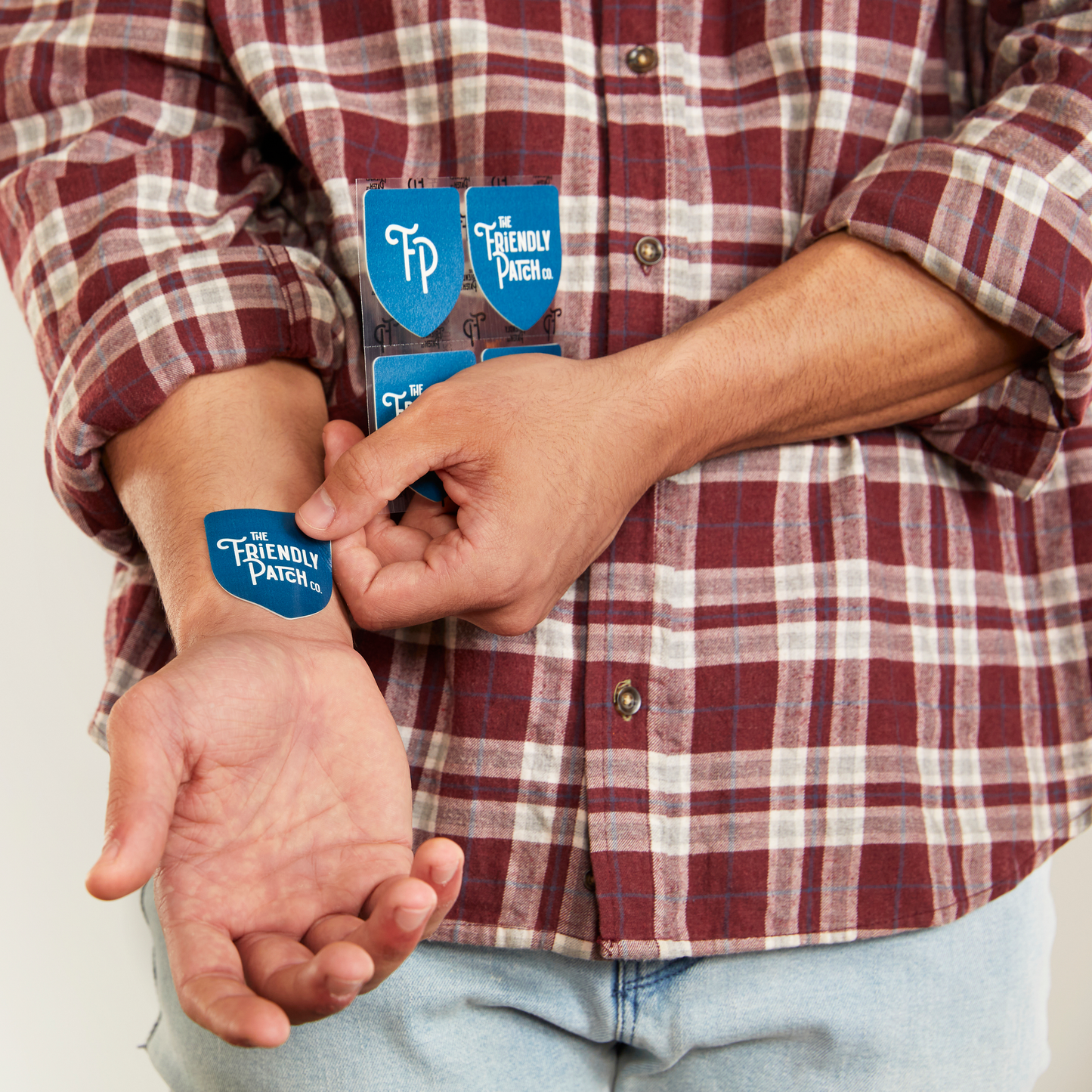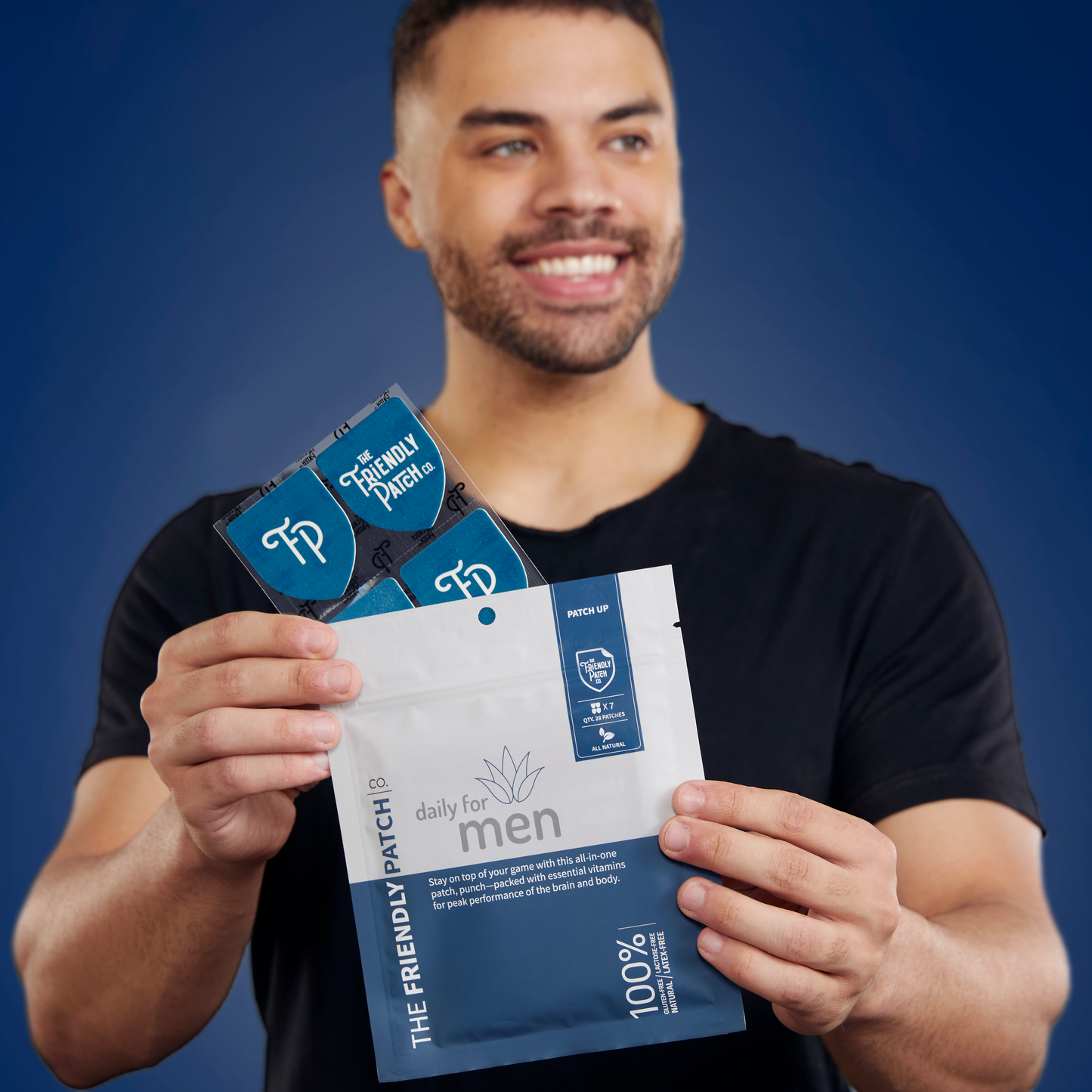 Your Body's Best Friend.
Our patches are safe, effective & support your body's needs.

No Fillers
Vegan

Gluten Free
Water Resistant
Latex Free

Activates in Minutes
Men Vitamin Patch - How it Works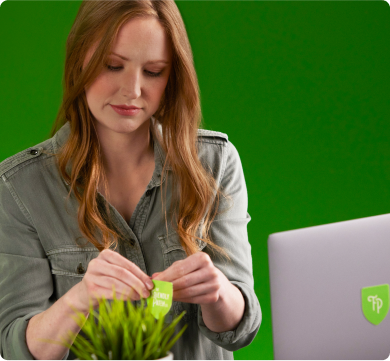 1.Peel
Carefully remove one patch from the sheet by peeling a corner.
2.Stick
Place on a relatively hair-free part of the body. We like the inner wrist!
3.Enjoy!
Soak in the benefits, then replace with a new patch and repeat daily.
Try Our Full Lineup

Our best-selling Variety Pack lets you try all of our unique patch formulas.

Shop Variety Pack
Frequently Asked Questions
What Is a Men's Vitamin Patch?

Men vitamin patch is an excellent boost to energy.

Men patches allow you to fasten your immune system.

Mineral consisting patches can prepare you for life activities.

Men Patches strengthen your immune system or improve your health.

The patch is the best remedy to give body cells instant energy.
Any Side Effects of Vitamin Patches for Men?

Men patch has numerous energy vitamins and minerals.

Energy Vitamins keep your body healthy.

Men patch does not harm your body's metabolism.

The patch keeps your body active and refreshes the whole day.




You can use the patch without worrying about its side effects, as it does not impart any severe injury to your body.
How Do Energy Patches Work?

1. The energy patches act as a carrier of nutrients until it stays on the skin
2. At the point of adhesion, the patch will transfer all its nutrients into the bloodstream, boosting your energy level.
3. After permeating the nutrients into the blood, these nutrients will move to the other body parts.
4. If your body is deficient in any nutrient, the patch helps you get them and strengthen your immune system.
What Vitamins Can You Absorb Through the Patch?

You will get the list of quality nutrients from Men Patch.

Copper

Magnesium

Molybdenum

Chromium

Fat-Soluble Vitamins

Water-Soluble Vitamins

Calcium

Iron

Zinc

Potassium

These nutrients give your body all the elements that your diet may be deficient in. So, using a single vitamin patch is more helpful than taking these nutrients separately.
What Are the Benefits of Men's Vitamins with B12?

The patch plays a crucial role in improving your overall health. 'Some of its benefits are

It boosts the men's energy level.

The patch is highly useful in improving the concentration level.

You can accelerate your metabolism and memory using the patch.

Strengthen your muscles and immune system.

Promotes healthy cognitive function